Nard's Backyard BBQ
Full Service On-Site Catering
NARD'S BACKYARD BBQ offers a customized menu for any event or budget. Whether your event is  a wedding, corporate party, or holiday party, we can prepare a meal to suit your taste!
Catering
Food Truck
I began NARD'S Backyard BBQ at the persuasion of friends and family who urged me to share my talents with others. With a love of cooking and entertaining, I took the name Nard, an old high school nickname, and took my passion on the road. My love of entertaining and cooking brought me to my catering business. My love of BBQ  led me to the BBQ Competition Circuit where I compete in BBQ competitions throughout South Carolina.  It is what I love to do! – Randall Knight, Owner, Pitmaster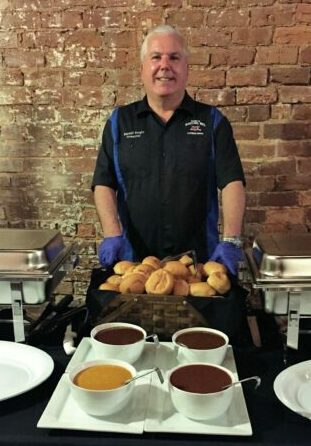 We can cater your large corporate event or your small private wedding. We cater large events every month so you can rest assured that we'll cover the details.
We will cook a custom menu for your event!
Hosting a big festival and need a food vendor? We do it all!
We'll bring our food truck and setup at your event to feed your guests. We offer pre-paid vending or pay-at-the-window.
Randall has been grilling and smoking professionally for over 20 years. He's from the Upstate and he knows authentic Southern BBQ.

"Every single thing I have ever tasted from this man has been spot on! Nard's knows good BBQ. My fav in the upstate!"
Mike Moore, Buxton Hall Barbeque

"You can't go wrong with Randall in charge of your events
.

"
"I have tasted some of just about everything he prepares. My favorite is frogmore stew for a catered event. His brisket is fantastic and he makes a mean  Brunswick stew. You can't go wrong with Randall in charge of your events."
Janis Hall, Attorney

"Some of the best we tasted"
"Just sampled the pulled pork at Festival of Discovery. Some of the best we tasted."
Debbie Harlow

"He cooked a whole pig!  I am still receiving compliments on how amazing and delicious the food was. He cooked a pig for me on site and displayed it on his cooker with the apple in it's mouth and everything. It was awesome. He gave me 3 different BBQ sauces and a wide selection of fantastic sides including a fantastic sweet potato crunch."
Elaine S.
As always, Nard's Backyard BBQ welcomes your feedback, comments and suggestions.  Personalized service is our business.  We will do our best to make sure your catered event is a success and that your guests have a wonderful, savory experience.
Drop Us a Line
Don't be shy. Let us know if you have any questions!